"The Coast Watchers: The Men Behind Enemy Lines Who Saved the Pacific"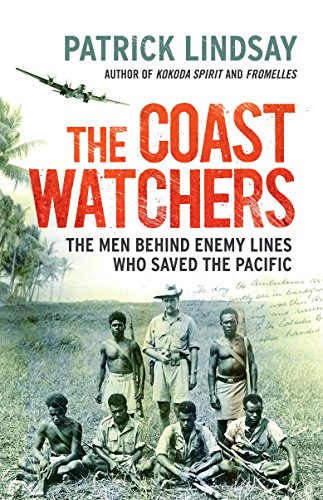 Yellow highlight | Location: 2,813
Clemens soon established his own coast-watching group, based in Aola, about two-thirds of the way along the island on its north coast, using the district's native police and administrative staff as its core. His callsign was ZGJ4 and he linked with the two other Coast Watchers on the island: the local coast-watching chief, Sub-Lieutenant Don Macfarlan, RAN – formerly manager of Burns Philp's rubber plantation at Berande, who had recently been placed there by Eric Feldt – and another former Burns Philp plantation manager at Lavoro, F. Ashton 'Snowy' Rhoades.
Yellow highlight | Location: 2,817
Macfarlan's post at Berande was about 30 kilometres west of Clemens along the north coast, while Snowy Rhoades' Lavoro post was on the island's north-western tip, around 120 kilometres from Aola.
Yellow highlight | Location: 2,829
By 24 March, all three Guadalcanal Coast Watchers had met at Lavoro and organised Snowy Rhoades' teleradio, worked out their codes and discussed their options and plans should the expected Japanese landings occur. Each of them agreed to establish secret supply caches and fall-back posts. Then they returned to their posts and waited.
Yellow highlight | Location: 3,090
Father Emery's first contact with the Coast Watchers came when Snowy Rhoades sought out his medical skills to help a downed US fighter pilot immediately after the American landings.
Yellow highlight | Location: 3,092
Machinist Bill Warden took off from the US Carrier Enterprise on 7 August and was shot down in the Slot. He first paddled his rubber liferaft to the Russell Islands but, finding nobody there, he drifted south-east to Guadalcanal. There he made contact with the local natives, who in turn notified Rhoades. He sent his offsider, former plantation owner Leif Schroeder, to investigate.
Yellow highlight | Location: 3,096
Warden was initially unwounded but he badly hurt his arm in a fall on the way to Rhoades' post. Rhoades was
Yellow highlight | Location: 3,099
When Father Emery finally persuaded the flyer that he could best be treated by returning with him to Tangarare, Rhoades was happy to see him go, because it freed up his movements again.
Yellow highlight | Location: 3,107
His first actions in support of the Allies came when he started passing on information of Japanese movements to Snowy Rhoades.
Yellow highlight | Location: 3,134
Hence, when Snowy Rhoades asked for his help in treating Bill Warden, Father Emery took the next step and offered to hide him as well.
Yellow highlight | Location: 3,165
Shortly after Macfarlan had sent some of his scouts to find the only survivor of the massacre, the elderly and ailing Sister Emdee, more dramatic news came through: Rhoades was reporting that the Japanese were moving down the south-west coast; that he and Leif Schroeder were about to abandon their post; and that the missionaries back at Tangarare were also moving inland into the jungle.
Yellow highlight | Location: 3,171
Rhoades and Schroeder headed down to the coast, picking up a downed US airman on the way and arriving on 24 September.
Yellow highlight | Location: 3,180
The parade of escapees quickly boarded her and by 7 am it was at sea, heading back to Lunga. Rhoades, Schroeder, the bishop, the missionaries and assorted others now settled in for the risky but exhilarating journey to safety.
Yellow highlight | Location: 3,184
He told his friend and confidant, Father Brugmans – who responded by giving him all the mission's cash – and Snowy Rhoades, who handed over his rifle and ammunition. They kept his confidence and said nothing until the boat was past the point of no return.
Yellow highlight | Location: 3,191
Deciding to meet the challenge head on, he confronted the chief in his village and told him – in most unpriestly terms – that he had Snowy Rhoades' .303 rifle and that if he was threatened he would kill the chief.
Yellow highlight | Location: 3,223
By early November, while his initial force of around 20 men was training at Tangarare, a group of about 40 armed villagers led by one of Snowy Rhoades' scouts turned up asking to join them.
Yellow highlight | Location: 3,474
On 10 October 1942, Read was stunned to hear – over the Australian Broadcasting Network – that he, Mason, Donald Macfarlan and Snowy Rhoades had all been awarded the American Distinguished Service Cross in recognition of their work.
Yellow highlight | Location: 4,350
They helped American planners preparing for a landing on Rendova, where Snowy Rhoades had forsaken his Ferdinand role and was actually leading a special force of specially trained commando-style jungle fighters. Eric Feldt always said that, of all his Coast Watchers, Rhoades was the only one who looked the part: With his unruly hair, his deeply lined face, his cold
Yellow highlight | Location: 4,354
blue eyes peering out from under his bushy brows, with his head hung like a prize-fighter tucking his head in, he looked the complete jungle fighter; actually he revelled in shooting Japs. He took charge of the jungle training and rather enjoyed it.
Yellow highlight | Location: 4,357
Rhoades' previous military training ideally suited him to his new offensive role. He had been a light horseman in World War I and, although he was almost 50, he was hard and fit. He stunned his young charges on his first patrol when, confronted by two enemy soldiers, he shot and killed them both. He would later be awarded the US Silver Star for gallantry.
Yellow highlight | Location: 7,044
A group shot of Eric Feldt with many of his key Coast Watchers, taken in 1942. Front row (left to right): Ashton, Noakes, Rhoades, Feldt, Mackenzie, Marsland, Koch, Campbell. Back row (left to right): Wright, Skinner, Bridge, Cambridge, Walker, Robertson, Carden Seton, Williams (AWM 304727)